London calling! Digital Live from the The Barbican and West End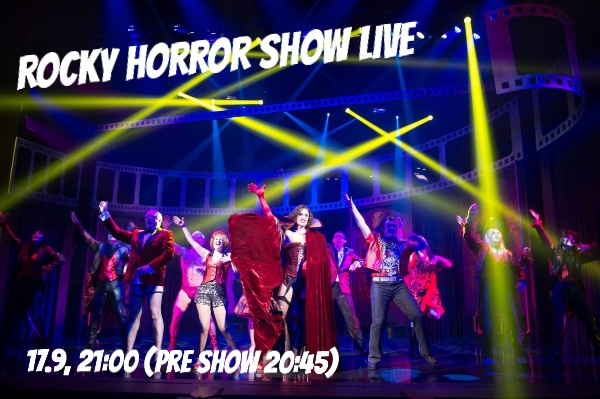 17.9: ROCKY HORROR SHOW! (20:45)Schaumansalen i samarbete med StoryHill livesänder 40-årsjubileumet för världens mest legendariska rockmusikal: Rocky Horror Show! Den unika jubileumsföreställningen livesänds från West End i London, med musikalens skapare Richard O'Brien på scen för första gången på 20 år. Som lyxiga gästartister ser vi också Stephen Fry, Emma Bunton och Mel Giedroyc.Filmversionen (Rocky Horror Picture Show, 1975) har blivit en långkörare på bio i hela världen, med en egen kult kring visningarna, där publiken klär ut sig, kommenterar replikerna på vita duken, kastar ris och skjuter med vattenpistol. Scenmusikalen blandar B-film, science fiction, skräckfilm, cabaret och queer i en salig röra!

Kom utklädd till din favoritfigur i showen, men glöm inte nätstrumpor, högklackat och glitter…
ingen textning

Biljetter: 25€
15.10: HAMLET (21:00)
Schaumansalen i samarbete med Folkets Hus och Parker livesänder Hamlet från The Barbican Theatre i London. I huvudrollen ser vi Oscarsnominerade Benedict Cumberbatch. Sändningen textas på svenska!
Benedict Cumberbatch blev Oscarsnominerad för sin roll i The Imitation Game och vann en Emmy för sin roll i TV-serien Sherlock. Bland hans filmroller märks också 12 Years a Slave, Star Trek Into Darkness och Tinker Tailor Soldier Spy. Han gjorde stor succé i National Theatres livesända Frankenstein i regi av Danny Boyle. Nu tar sig Benedict Cumberbatch an rollen som Hamlet i Shakespeares tragiska mästerverk.
För regin står den hyllade Lyndsey Turner (pjäserna Posh och Machinal). Hon vann Critic's Circle Theatre Award och Laurence Olivier Award som bästa regissör 2014 för pjäsen Chimerica.
Regi: Lyndsey Turner
I rollerna: Benedict Cumberbatch, Leo Bill, Sian Brooke, Anastasia Hille, Ciarán Hinds, Kobna Holdbrook-Smith, Jim Norton
Scenografi: Es Devlin
Kostym: Katrina Lindsay
Ljusdesign: Jane Coxchau
Musik: Jon HopkinsBeräknad längd: 4 tim (inkl paus)
Biljetter: 22€
………………………………………………………….