Schauman Hall Digital Live repris: FOLLIES
ATTN! This event has already passed.
Schauman Hall Digital Live repris: FOLLIES
13.01.2018
18:00 – 20:30
Schauman Hall
20/16 euro +exp. avg./+toim. maksu € – Buy tickets now!
Schaumansalen/Schaumansali

Stephen Sondheims legendariska, briljanta musikal är en visuell och musikalisk fröjd, som sätts upp för första gången på National Theatre i London. Föreställningen visas i Schaumansalen i samarbete med Folkets Hus och Parker.
New York 1971. Det är fest på Weismann Theatres scen. Imorgon ska den ikoniska byggnaden rivas. Trettio år sedan deras sista föreställning träffas Follies-flickorna igen för att ta ett par drinkar, sjunga några sånger och ljuga om sig själva.
Rollerna som de magnifika Follies görs av Imelda Staunton (NTs Vem är rädd för Virginia Woolf?, Harry Potter-filmerna, Vera Drake) Tracie Bennett (Shirley Valentine, TV-serien Coronation Street) och Janie Dee (Me and Orson Welles), tillsammans med en ensemble med 37 skådespelare och en 21-mannaorkester.
Steven Sondheim har vunnit Oscar, Tony, Grammy och Olivier-priser. Bland hans verk återfinns bl a A Little Night Music, Sweeney Todd och Sunday in the Park With George.
Stephen Sondheimin musikaali: Follies
Stephen Sondheimin legendaarinen musikaali esitetään ensimmäistä kertaa Lontoon National Theatressa.
New York 1971. Weismann Theatressa on juhlat näyttämöllä. Legendaarinen rakennus aiotaan purkaa seuraavana päivänä. Kolmekymmentä vuotta on kulunut heidän viimeisestä esityksestään ja The Follies girls ovat koolla nauttiakseen muutaman drinkin, laulaakseen muutaman laulun ja valehdellakseen siitä, miten heillä menee.
Tracie Bennett, Janie Dee ja Imelda Staunton esittävät upeita Follies-tähtiä häikäisevässä uudessa tuotannossa. Dominic Cooken (The Comedy of Errors) ohjaus tuo lavalle 37 esiintyjää ja 21-henkisen orkesterin.
Muun muassa A Little Night Music, Sweeney Todd ja Sunday in the Park with George ovat Oscar-, Tony-, Grammy- ja Olivier-palkitun Sondheimin muita musikaaleja.
SPELTID/KESTO: 
SVENSK TEXT/RUOSINKIELINEN TEKSTITYS
REGI/OHJAUS: Dominic Cooke
I ROLLERNA/ROOLEISSA: Tracie Bennett, Janie Dee, Imelda Staunton
PRESSCITAT/LEHDISTÖSTÄ:
"Imelda Staunton is unforgettable in Sondheim's showbiz stunner" – GUARDIAN
"Unmissable" – TELEGRAPH
"Spectacular. Outstanding" – FINANCIAL TIMES
"A perfect production" – METRO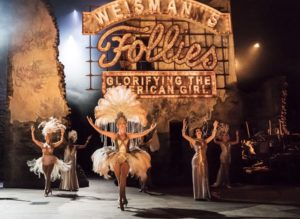 ---